The 21st annual Congress of the Basic Income Earth Network (BIEN) was hosted by CPF from 26-28 September, in conjunction with the Faculty of Humanities and Social Sciences, BIEN Australia, the Australian Basic Income Lab, and Queensland University of Technology.
BIEN encourages education and informed discussion about the potential of basic income in a wide range of contexts. It draws together individuals and groups from across the world who come from a range of disciplinary backgrounds and who hold diverse political affiliations, such as social policy practitioners, students, academics, activists and more.
The headline theme of the 2022 Congress was "Crisis and Transformation." In the wake of the COVID-19 pandemic, climate change, and global political insecurities, this theme provided a timely and pertinent opportunity to investigate how we can use basic income to consider new and better futures. It prompted questions such as:
Can basic income play a role in tackling the multifaceted health, ecological and social crises confronting the world today?
How can we think about the role of basic income in the positive transformations that are needed?
What can we learn from voices and knowledges often overlooked — First Nations peoples, young people and the many other marginalised voices and actors?
To discuss these and many other questions surrounding basic income, more than 100 presenters from over 35 countries attended Congress and spoke on an array of topics including, but not limited to:
Basic Income in the Asia Pacific Region
Basic income and Indigenous communities
Basic income and health
Basic income and work futures
Basic income models and implementation
Basic Income and ecological justice
Basic income and inequalities (gender, poverty, social justice, and migration)
Income and current systems
The Congress was a truly hybrid affair, being held both in-person at The University of Queensland's St Lucia campus in Brisbane, Australia, and online via a custom platform created by New World Events. In-person sessions- which received over 100 attendees- were streamed online, whilst online sessions were available for viewing at the venue in Brisbane. The event also facilitated several hybrid sessions which included those in Brisbane presenting with and alongside speakers who tuned in virtually.
A particularly special part of the Congress was the award-winning artist Jessie Golem's exhibition, "Humans of Basic Income," which was available for viewing both in person and online. The exhibition focuses on the stories of participants in the Basic Income Pilot Project in Ontario, Canada. Read more about Jessie's art and view some of the portraits from the "Humans of Basic Income" project here.
In addition to the many daily sessions, the Congress also included several curated panels and plenaries. On day 1, the event opened with an address from Professor Heather Zwicker (Executive Dean of the Faculty of Humanities and Social Sciences), an Acknowledgement of Country by Associate Professor Sandra Phillips (Associate Dean, Indigenous Engagement, Faculty of Humanities and Social Sciences), a video address by Andrew Yang, and a plenary by Scott Santens. Guy Standing concluded the day with a keynote on "Blue Common Dividends as Basic Income in Coastal Communities."
Day two featured a crucial panel discussion on "Indigenous Perspectives on Basic Income," with panellists Bella Moke and Te Rangikaheke Kirpatea (Basic Income New Zealand), Janell Dymus (Hāpai te Hauora), Tjanara Goreng Goreng (The Greens), and MP Leah Gazan (Winnipeg Centre, Manitoba, Canada). Attendees also heard valuable first-hand experiences from those that have received basic income on the Basic Income Participants panel. This included participants in the Kenya Mission UBI program, the "Work Free" UBI project in Hyderabad, and the Compton Pledge. All emphasised just how important basic income was because it enabled them to pay for necessities such as rent, medication and bills without having to succumb to debt and loan sharks. The second day of Congress ended with Philippe van Parijs' address, "Climate, COVID, Putin: Dawn or Dusk for UBI?", which spoke to how UBI can be a driver of productivity and make use of existing human capital.
A keynote with Kathi Weeks kicked off day 3, with insight into how the feminist perspective is integral to understanding the value of BI for everyone in society, how many contributions to society are done without wage guarantees or support, and how a basic income can give people new dimensions of choice.
Whilst the in-person sessions were rounded off with closing remarks from Elise Klein and Greg Marston at 5pm on day 3, the online sessions continued up until 10pm local time that evening, and were followed by the BIEN General Assembly. The next BIEN Congress will be hosted in Seoul, Korea, in 2023.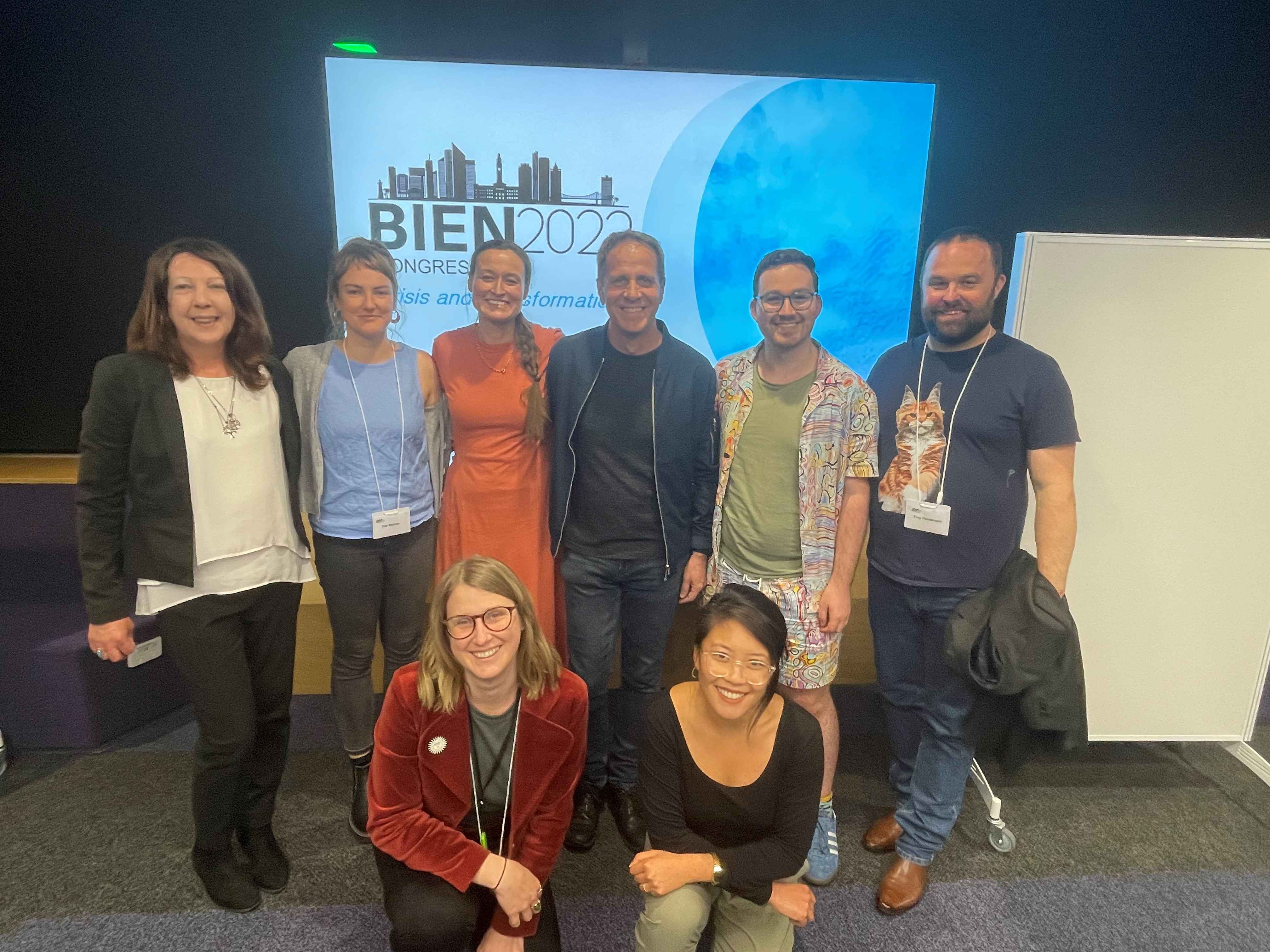 The Local Organising Committee. Back left to right: Jenni Mays, Zoe Staines, Elise Klein, Greg Marston, Josh McGee, Troy Henderson; front: Jennifer Rumbell, Jess Chew (missing: Ben Spies-Butcher)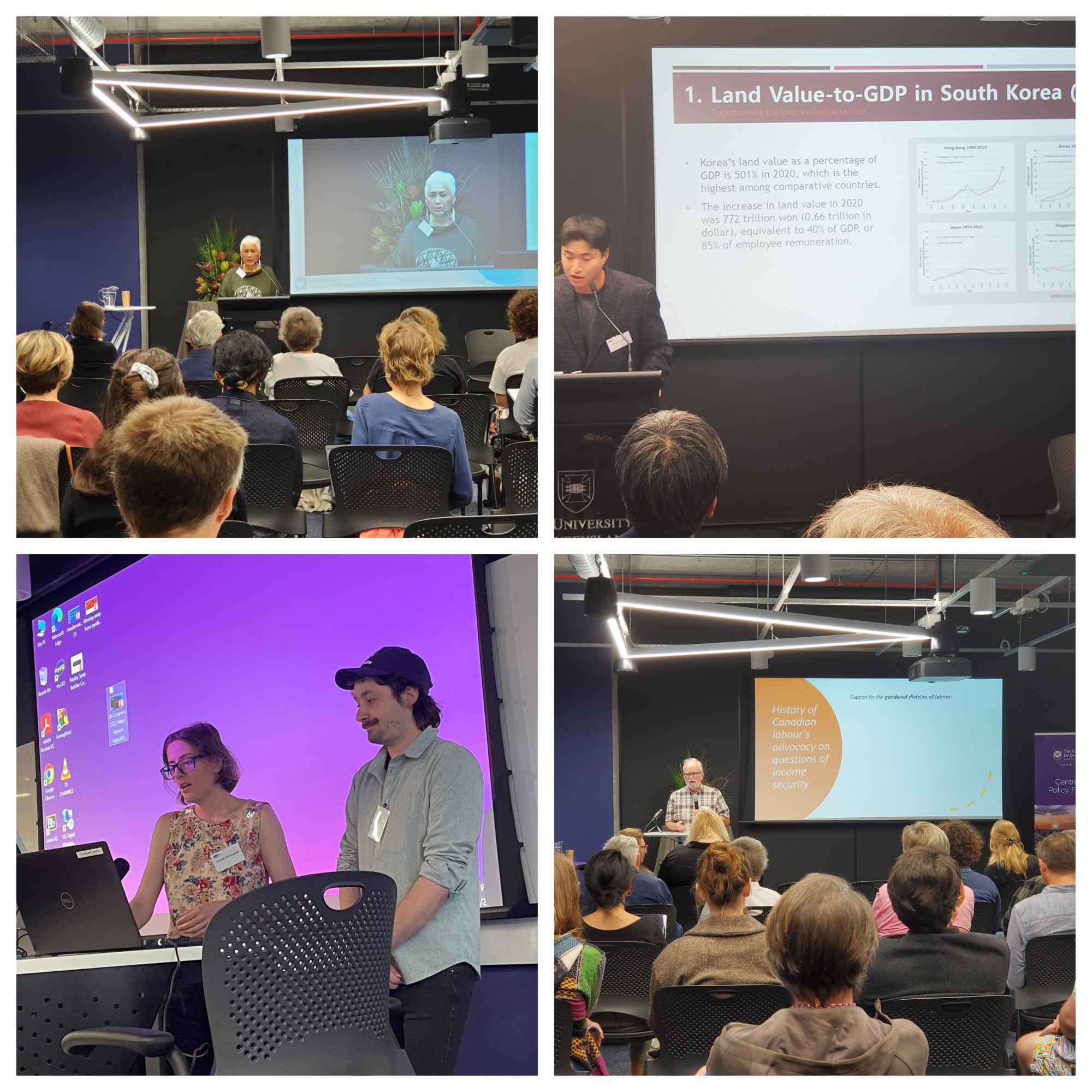 Clockwise from top left: Bella Moke (Basic Income New Zealan), Gi Hoon Choi (Gyeonggi Research Institute / Basic Income Action Lab), Professor Mark Smith, Kristen O'Connell and Jay Coonan (Antipoverty Centre)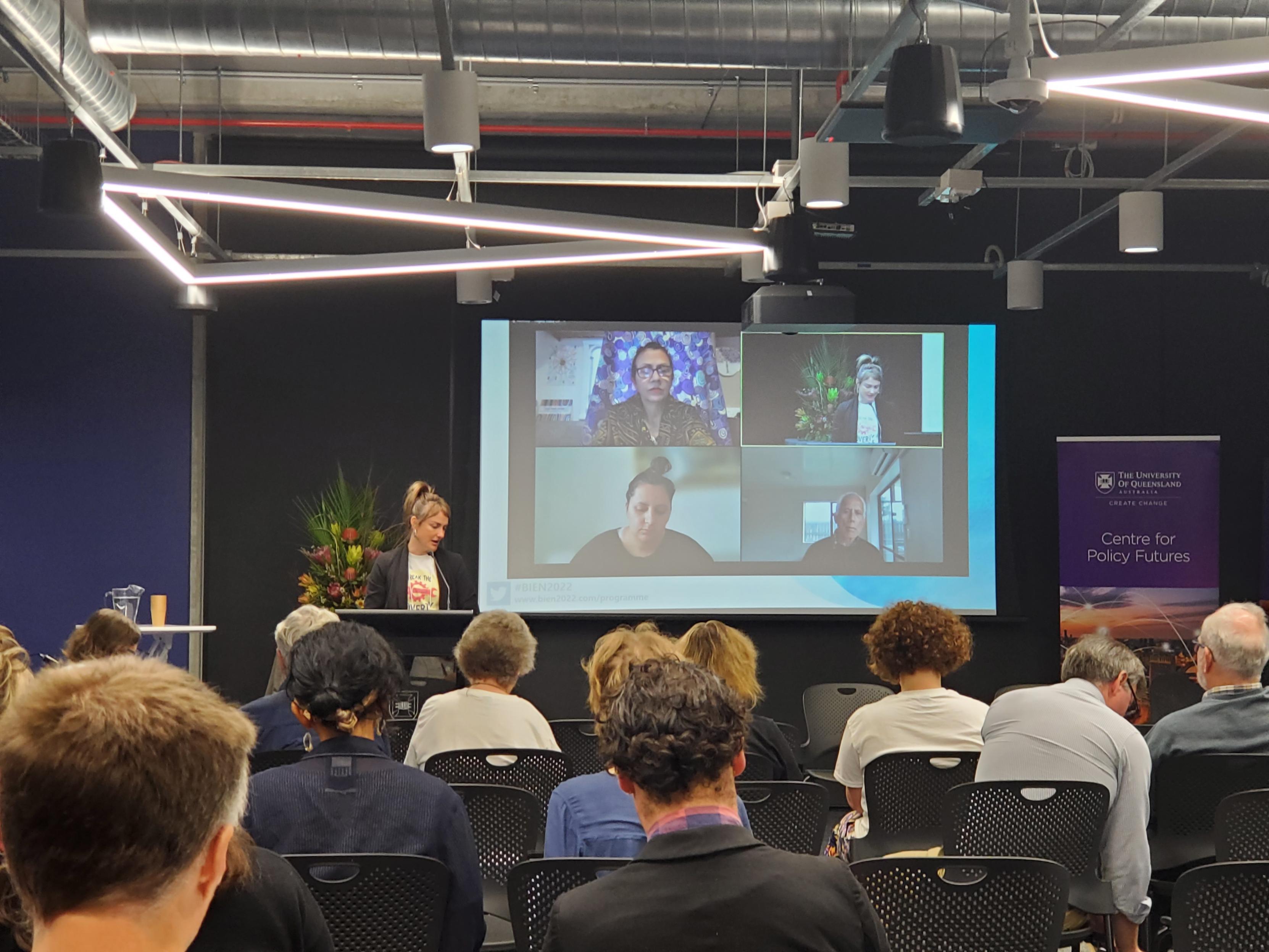 Panel session on "Indigenous Perspectives on Basic Income" (Tjanara Goreng Goreng, Bella Moke, Te Rangikaheke Kiripatea, and Janell Dymus, chaired by Zoe Staines)