Recently, Dr Hai Hong Nguyen, an Honorary Research Fellow at the Centre for Policy Futures, gave two interviews to the Vietnam News Agency (VNA) on the occasion that Vietnam ran its candidacy for membership and was successfully elected to the United Nations Human Rights Council.
Read more about Vietnam's contributions to, and involvement with, the UN in English here, and in Vietnamese via the following links:
- https://baoquocte.vn/khong-phai-nuoc-nao-cung-nhan-duoc-long-tin-tu-lien-hop-quoc-nhu-viet-nam-201510.html
- https://baoquocte.vn/tham-gia-quoc-te-tu-y-thuc-trach-nhiem-viet-nam-gianh-duoc-long-tin-cua-quoc-te-201277.html
- https://www.vietnamplus.vn/viet-nam-gianh-duoc-long-tin-quoc-te-nho-nhung-dong-gop-co-trach-nhiem/822680.vnp
- https://nhandan.vn/viet-nam-gianh-duoc-long-tin-cua-cong-dong-quoc-te-post719041.html?fbclid=IwAR0NT-a42BSwaS6XvqXPmGzeBtxa2IATyvahUAMeu2BcSi6x9sN6fqgMN-k
Dr Nguyen is one of the leading Vietnam scholars in Australia, and has written extensively on Vietnam politics, foreign policy, and international relations. He often appears in public forums such as The Diplomat, Asia Times, and East Asia Forum. He has also published in high-ranking peer-reviewed journals including the Asian Journal of Political Science, Asia Politics and Policy Journal, and Journal of Southeast Asian Affairs. Dr. Nguyen's first monograph, Political Dynamics of Grassroots Democracy in Vietnam (McMillan 2016), is a pioneer in the study of this subject in Vietnamese politics.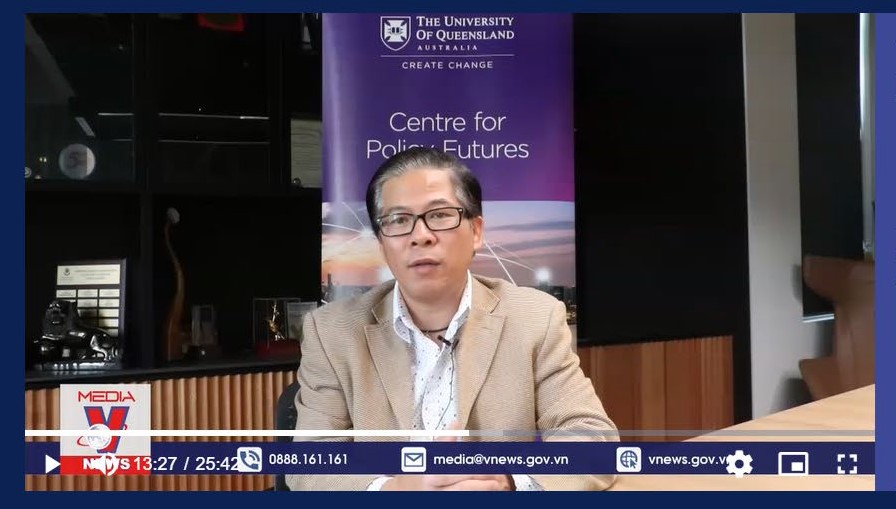 Dr Nguyen's interview (in Vietnamese) is available for viewing here.