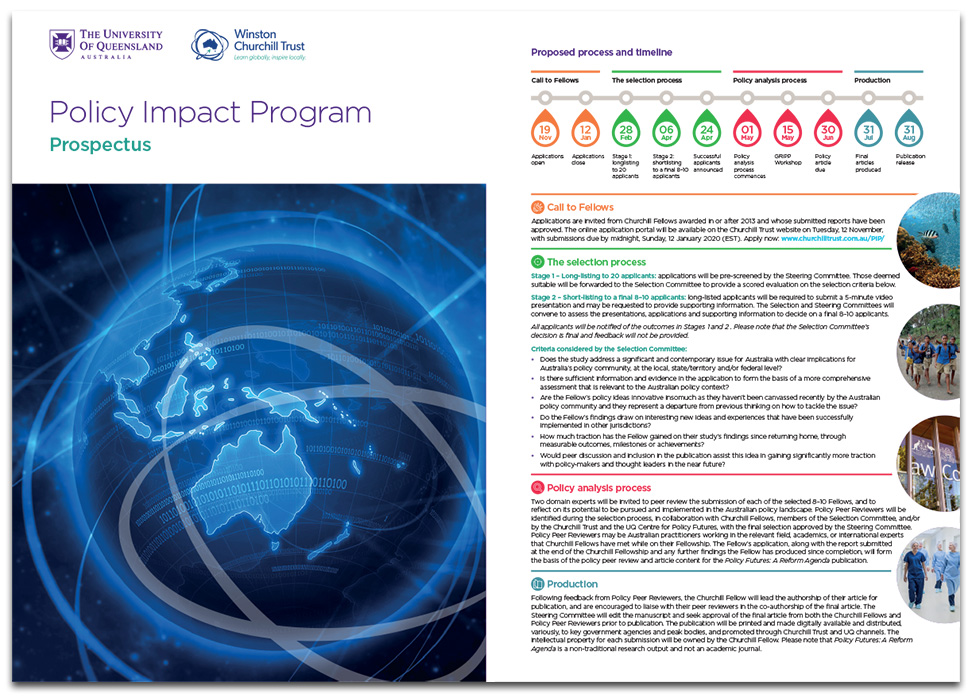 We are delighted to announce that the Centre for Policy Futures are partnering with the The Winston Churchill Memorial Trust to increase the impact of outstanding Churchill Fellows and their findings through our new Policy Impact Program (PIP).   
The Policy Impact Program will identify, curate and advocate a selection of ideas from Churchill Fellows that have the potential to shape best practice and policy reform on a variety of relevant and contemporary issues facing Australia. The flagship of the program will be an annual publication entitled Policy Futures: A Reform Agenda.
Up to 10 applicants will be selected to join the program. Successful Fellows will work alongside leading policy analysts to assess the policy implications of their work and develop their policy ideas into a co-authored article for the annual publication, which will be distributed to policy-makers and government personnel. PIP Fellows will also be provided with opportunities to develop their skills in policy and governance, identify and engage with relevant government leaders, extend their networks, and learn how to improve the context-specificity of their findings. 
With the combined strengths and convening power of the Churchill Trust and the UQ Centre for Policy Futures, the perspectives of PIP Fellows will be given a national platform and be targeted in such a way as to heighten impact. 
Applications for the Program are now open for Churchill Fellows awarded on or after 2013. Submissions are due by midnight, Sunday, 12 January 2020.  For further information, visit: https://www.churchilltrust.com.au/PIP/