Day 1 - Digital Transactions in India: Platforms, Markets, Users
22 July 2021

12:00pm

–

5:00pm
About Digital Transactions in India: Platforms, Markets, Users
Image by: David Dvoracek / Unsplash
Thursday 22nd & Friday 23rd July 2021
Brisbane Time: 13:30–18:00 (AEST)
Delhi Time: 09:00–13:30 (IST)
Online via Zoom
 

Critical debates are currently underway on the financial, social and economic regulation that will determine the form of India's digital environment in coming decades. This two day hybrid event (webinar and in-person) will key into these debates by bring leading figures in India's Fintech sector into conversation with Australian scholars focusing their research on digital transactions in India and the wider international significance of India's digital agenda.

The Asian region as a whole is passing through a period of unprecedented social, economic and political change, and digital platforms operate at the centre of these processes. In India, the evolution of digital architecture is seen as the primary means for ensuring that the digital switchover yields equitable benefits, and that India's digital economy achieves trajectories of sustainable growth and key goals in financial inclusion. This switchover to digital transactions is key for the realisation of a Digital India, the goal of a central government campaign launched in 2015. 
However, the path to Digital India has not always been smooth, a fact that is most starkly exemplified by the seismic shock of demonetisation in November 2016. Since this time, the digital payments sector in India grown and evolved across a range of applications, processes and services. Moreover, India's transaction architecture has further expanded across new domains including; e-commerce, personal finance, micro credit, welfare system, social media apps, and even scientific research dissemination - all platforms that are central to social and economic life during the COVID pandemic. 
Despite the clear utility of these mechanisms, there are significant and continuing obstacles to realising the vision of a cashless and fully Digital India that is effective, transparent, accountable and inclusive. As a result, the domestic start up sector in India is growing rapidly and seeking to develop key innovations in financial inclusion and social development frameworks capable of operating across this vast and diverse nation and serving what is one of the largest user markets for major transnational platforms.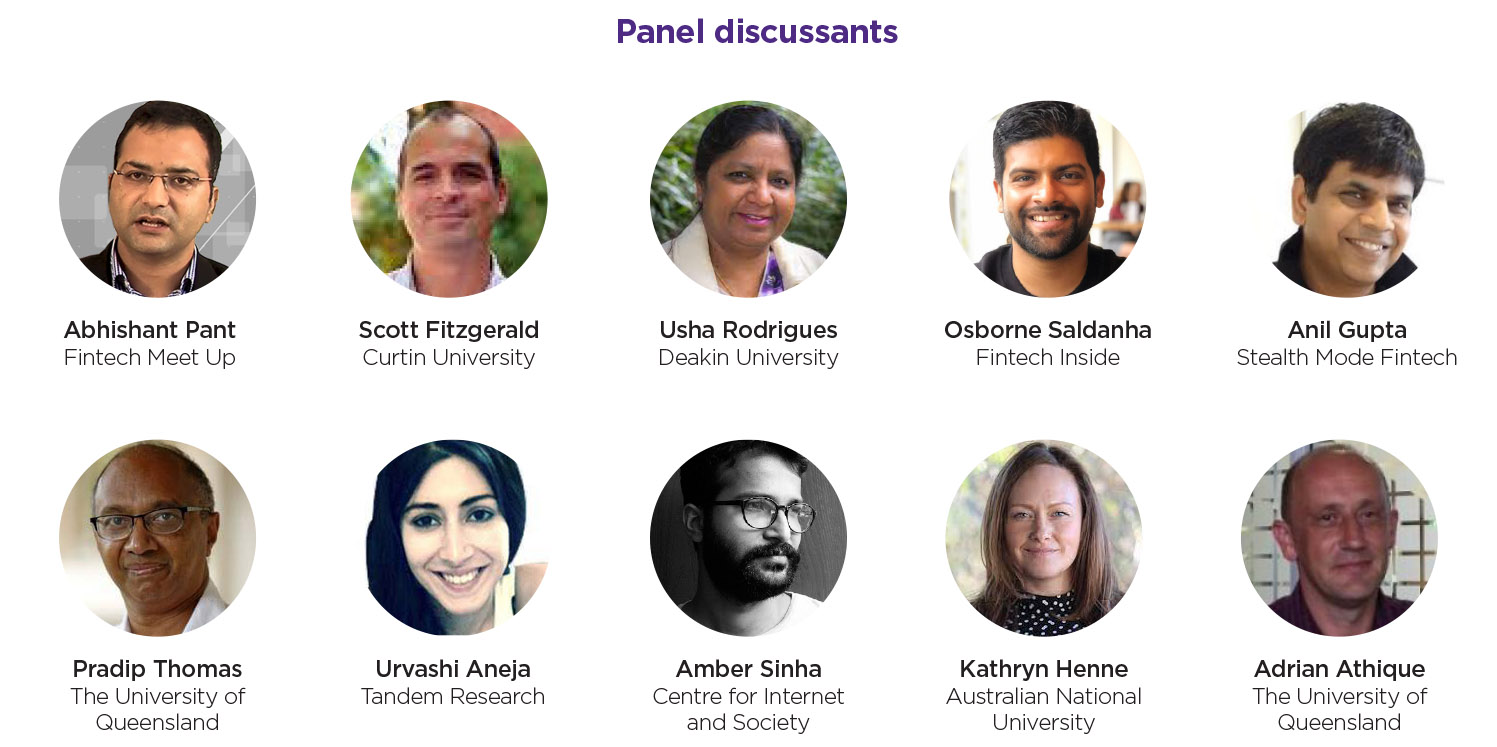 For further information, please contact Dr Allison Fish, UQ Centre for Policy Futures:
e-mail: a.fish@uq.edu.au or phone: 07 3443 3118


Funded by
This event is made possible through the generous support of the Australia-India Council, Department of Foreign Affairs and Trade (AIC 2019073). 
Organized by  
Adrian Athique, School of Communication & Arts 
Allison Fish, Centre for Policy Futures 
Pradip Thomas, School of Communication & Arts 
Beck Hurst, Institute for the Advanced Studies of the Humanities
Jennifer Yarnold, Centre for Policy Futures
Sponsored by  
Centre for Communication & Social Change 
School of Communication & Arts 
Institute for the Advanced Studies of the Humanities 
Centre for Policy Futures