On June 2nd, the Centre for Policy Futures and the School of Political Science and International Studies co-hosted the launch of Professor Brian Head's new book, Wicked Problems in Public Policy: Understanding and Responding to Complex Challenges.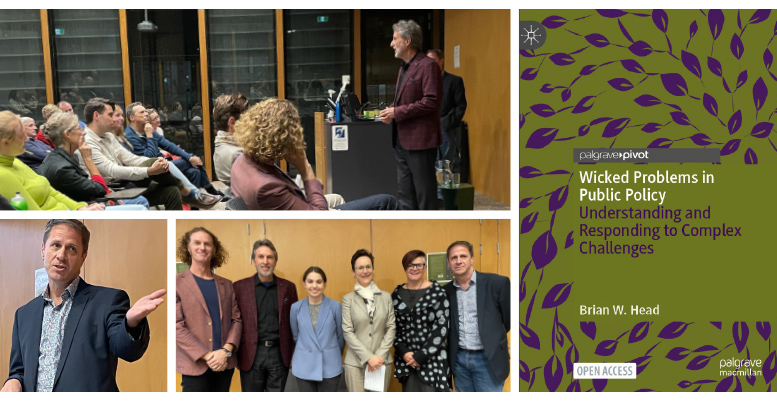 Professor Head is a leading expert in research on public management, governance, social issues and environmental policy, with experience working across senior roles in government, universities and the non-governmental sector. Wicked Problems in Public Policy is the culmination of Professor Head's work on the complex issue of "wicked problems." The book offers the first overview of the research on 'wicked problems', which are often seen as complex, open-ended, and intractable. Typically, both the nature of the 'problems' and the preferred 'solutions' are strongly contested. In this book, Professor Head contextualises the debate using examples from a wide range of social, economic and environmental areas to develop new insights about better solutions, and thus gain broad stakeholder acceptance for shared strategies for tackling 'wicked problems.'
The event was emceed by Professor Greg Marston (director at the Centre for Policy Futures), with opening remarks given by Professor Heather Zwicker, the Executive Dean of UQ's HASS Faculty. Professor Cameron Parsell spoke on the topic of "wicked problems," and Hannah Lester (President of UQPPES) gave insight into how
the book was developed in part through Brian's teaching of the PPE Honours program
. The launch ended with a Q&A session between Professor Kath Gelber (POLSIS) and Professor Head.
"The concept of wicked problems has become very commonly used, and abused, in contemporary studies of public policy.  While expressing some appropriate skepticism about the concept, Brian Head uses the idea to analyse the numerous difficult problems facing governments in the 21st century."
B. Guy Peters
, Maurice Falk Professor of American Government, University of Pittsburgh, USA
"Rich with empirical detail, this book looks set to become the definitive work on wicked issues and what to do about them."
Claire A. Dunlop
, Professor of Politics, University of Exeter, UK
Wicked Problems in Public Policy

is available open access

here

.