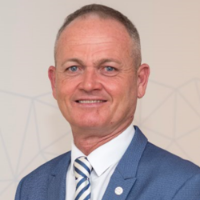 Mr David Mackie was appointed to the role of Director-General, Department of Justice and Attorney-General (DJAG) in 2015.  David was previously the Deputy Director-General of DJAG.  He holds a Bachelor of Commerce with majors in Economics and Public Policy.
David has nearly 30 years' experience in the Queensland Public Sector, in executive and senior management positions responsible for both the delivery of front line services and corporate support services. David's significant experience includes senior positions within the Queensland Anti-Discrimination Commission Queensland, the Commission for Children and Young People and Child Guardian, and the Commission of Inquiry into the implementation of the Queensland Health Payroll System.
David currently sits as a non-judicial Council Member on the National Judicial College of Australia and is the Director-General Champion of the Queensland chapter of the National Regulators Community of Practice.  David is also the Queensland Government Champion for Mossman Gorge.