In this Lowy Interpreter article, the Centre's Dr Greta-Nabbs Keller1 and Expert Advisor to Indonesian National Cyber and Crypto Agency's (BSSN) Dr RM Wibawanto Nugroho Widodo,2 discuss recent cyber security policy developments in Indonesia and the benefits of practical bilateral cooperation with Australia to enhance cyber security across the Indo-Pacific region.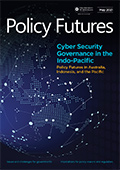 Their analysis coincides with the release of the Centre's latest Policy Futures think piece entitled, Cyber Security Governance in the Indo-Pacific: Policy Futures in Australia, Indonesia and the Indo-Pacific. Co-authored by Dr Nabbs-Keller and Dr RM Wibawanto with experts, including Professor Ryan Ko, Chair and Director Cyber Security at UQ's School of Information Technology and Electrical Engineering, and representatives from the Australian Department of Home Affairs, BSSN and Indonesia's National Defence University (Unhan), the think piece is based on the findings from a Roundtable Discussion.
Included are 12 recommendations proposing innovative and practical solutions designed to enhance regional cyber security governance and literacy. One of the more interesting ideas from Professor Ko includes a cyber security television series modelled on the highly popular Seven Network's "Border Security: Australia's Frontline", which could be streamed into Southeast Asia and the Pacific.
Read or download a copy of the Cyber Security Governance in the Indo-Pacific: Policy Futures in Australia, Indonesia and the Indo-Pacific report.
Read the full article on the Lowy Interpreter.
1 Dr Greta Nabbs-Keller is Research Fellow Southeast Asia and the Indo-Pacific at the Centre for Policy Futures, UQ.
2 Dr RM Wibawanto Nugroho Widodo is Vice President Operational (Pembina Harian), Democracy and Integrity for Peace Institute (DIP), Indonesia and Expert Advisor to the Head of BSSN.
Photo: The UQ Cyber Squad, a student society, has continued to build traction and attract teams of interdisciplinary students from across UQ. Pictured: Professor Ryan Ko and Cyber Squad students at the UQ Cyber Security Research Facility, St Lucia, Australia. Image courtesy of The University of Queensland.